AUSTEN TOWERS
In 1994, a wealthy american entrepreneur named Sandy Lerner acquired a 125-year lease on Chawton House, the Hampshire manor just up the road from the cottage where Jane Austen lived and wrote during the last eight years of her life. Lerner's plan was to turn the dilapidated fifty-room house into a research center devoted to early women writers. First, she would build a collection of novels written by Austen's female predecessors and peers. Then, she would install the books at Chawton House and allow scholars to come and immerse themselves in an environment that--with painstaking exactitude--would approximate Regency era living conditions. Four years later, however, restoration of the house has yet to begin, and some parts of Lerner's plan may never be realized.
The plot to derail the Chawton House project has all the conniving and nastiness of, well, an Austen novel. That is, if you imagine the house itself as the male love object (Mr. Darcy, say) and a handful of disgruntled locals as his jealous companion (think Miss Bingley), hell-bent on preventing the heroine (an upstart outsider) from catching the prize. In this last role, Lerner appears almost typecast. Like Elizabeth Bennet arriving at Netherfield Park in mud-stained petticoats, Lerner--with her loud nail polish and waist-length magenta hair--evidently made a rather alarming impression on the residents of Chawton Village (pop. 310).
A forty-two-year-old Californian with an affinity for early British literature and a reputation for brashness, Lerner made her fortune in Silicon Valley in the 1980s and has spent the last decade dispersing it to causes she feels passionate about. Besides Jane Austen, her hobbies run from music (audio engineering) to makeup. In 1996 she launched Urban Decay, a cosmetics company for grunge girls whose slogan, "Does Pink Make You Puke?" sums up its attitude-laden approach to body decoration. (Her celebrated nail-polish line features colors like Storm Drain, Asphyxia, and Gash.) But Lerner's interest in Austen dates back further, to her days at Stanford University, when she turned to Pride and Prejudice for relief from her graduate studies in economics. She has read all of Austen's work so many times, she says, that she has "much of it memorized." When she learned of the sorry state of Chawton House, she quickly intervened. (Happily, the cottage where Austen actually resided has been restored and is now a museum.)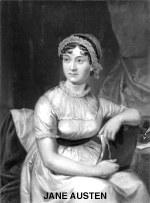 As the news of Lerner's acquisition spread, so did the rumors, eagerly pounced on by the British press: The house was to become an English branch of Euro Disney--or worse, a lesbian commune. Opposition to the restoration reached its peak over the fate of a set of badgers living in an abandoned swimming pool on the estate. Badgers are a protected species in Britain, and when word got out that Lerner's team planned to destroy the pool--a 1930s addition to the Chawton grounds--the local badger-rights society was called in to raise a ruckus. "The badgers and the swimming-pool problem delayed us a year," says Susan Maher, the center's director. There have been headaches over easements and access routes as well. The British, Lerner speculates, simply hate change. "We've had to drop a major part of the plan," she says, "due to resistance from the neighbors." Given the project's more unusual features, that might not be such a bad thing. Lerner hoped to evoke the eighteenth century with almost disquieting fidelity: "You know, when you read ĆI went to bed' in one of these early novels, it means something totally different than it does today--your beds might have been straw, rats were running around, your whole family may have been sleeping beside you. I wanted to get as far as you could toward re-creating the time period."
Now, it appears, scholars will neither reside at the center nor read Fanny Burney by candlelight--as Lerner originally hoped they would. Tentatively scheduled to open in four years, the center promises other unique offerings, chief among them access to what may be the world's largest collection of novels written by women between 1600 and 1830.
"One of the biggest fallacies in English literature today is that Jane Austen came out of nowhere," says Katherine Moulton, the librarian for the collection. "In fact," she says, "Austen was preceded by dozens of good women writers." Until recently, such an assertion would have been based more on theory than fact. But Moulton has evidence to prove it: Thirty-three boxes of now mostly forgotten early novels sit in her temporary office in Mountain View, California, awaiting repatriation to England; several thousand more are locked in a warehouse nearby.
The Chawton collection will include the work of women like Lady Mary Wroath (1586?≠1651?), a penniless young widow and mother who in 1621, to stave off her creditors, published Urania, a pastoral romance, beating Aphra Behn to the printers by fifty-five years. Then there's Eliza Haywood (1693≠1756), to whom sixty-seven literary works--as well as two children--are attributed. Austen, English literature's most famous maiden aunt, turns out to be the exception, not the rule. Her literary predecessors were not only numerous but typically wives and mothers, too.

With five thousand titles, the Chawton House Library already far surpasses its academic counterparts in terms of sheer numbers. (Brown's Women Writers Project, for example, an electronic textbase of work by women in English before 1830, offers a mere two hundred titles.) And the holdings are expected to more than double in size--an extraordinary prediction given that by rights, the combination of gender, genre, and time period that define the collection should function as a triple handicap. Since 1757 British law has required a copy of every published book to be deposited in the National Library. But, according to Isobel Grundy, director of Chawton House Library and a professor of English at the University of Alberta in Edmonton, the prejudice against novels, which represented the bulk of women's early literary endeavors, was such that librarians tended to ignore the rule. "Many of these books are simply lost," concurs Lerner. "Women had to pay to have them published, and they often appeared on crappy paper to be circulated only among themselves."
In September, the library celebrated its biggest coup yet when it acquired the Hardy collection, a Scottish doctor's personal trove of 826 novels, all published before 1830. Among its highlights is the only known copy of William Godwin's novel Damon and Delia. (It will be admitted to Chawton House by virtue of Godwin's relationship with eighteenth-century feminist philosopher Mary Wollstonecraft.) Godwin's book will join such valuable pieces as the only complete surviving handwritten Austen manuscript--a satirical novella titled Sir Charles Grandison, after the novel by Richardson--and a complete set of The Female Spectator (1744-1746), a monthly periodical edited (and perhaps entirely written) by Eliza Haywood. Then there are the more mysterious finds, such as The Castle of Tinmouth (1806) by the virtually unknown Jane Harvey. "It sounds like a stereotypical Gothic novel," says Grundy, "but like a lot of these women novelists, Harvey seems to be an intelligent critic of society. The book is set in the late Middle Ages and deals with a woman who is slightly liberated and ahead of her time. She is accused of witchcraft, threatened with being burned alive, and finally saved."
Mr. Darcy, who complained of knowing only a half dozen accomplished women, must have led a sheltered life indeed.
EMILY EAKIN