Bookshelf
Searching for a title mentioned in Lingua Franca? Find it at one of these online scholarly bookstores: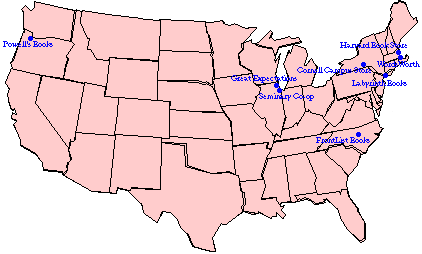 The Local Bookshop You've Always Wanted ... At Home
FrontList Books
An online bookshop for the scholarly avant-garde and other theoretically-minded readers.
Offering the best new books with a special focus on titles as they are about to be published.
All books offered will be sold at a discount.
FrontList is a bookseller with character, an attitude, and a discernible point of view.
For more information visit us on the web or call 800-408-1327
We Buy Books
Scholarly Collections
Used, Scarce & Rare
Please contact: Chris 503-228-4651 ext. 484
Powell's Books
1005 W. Burnside
Portand, OR 97209
www.powells.com
1-800-878-7323
Great Expectations Bookstore
Since 1961, we've kept our literary and scholarly clientele supplied with food for thought. We offer you our more than 65,000 titles in philosophy, literature, and nearly all academic fields. We accept all major credit cards, offer a 10% academic discount, and fill mail, phone, fax, or e-mail orders.
911 Foster Street
Evanston, IL 60201
Phone: (847) 864-3881
Fax: (847) 864-3997
greatexpectations@compuserve.com
Labyrinth Books
Specializing in Scholarly & University Press Books
Visit our ground floor devoted exclusively to new releases & journals
Get lost in our stacks with 100,000 titles on the second floor
Browse through the largest selection of scholarly remainders & sale books around!

536 W 112th St.
New York City
Tel 212-865-1158
At Columbia University
books@labyrinthbooks.com

"If your book isn't here, it will be."
Book Ordering Made Easy
At Harvard Book Store, we pride ourselves on the depth and diversity of the books on our shelves. We also pride ourselves on the ever-changing and eclectic needs of our customers. So if you can't find the books you need, we can. Our staff is dedicated to you orders. Harvard Book Store customer orders rarely take more than two weeks. In fact, most U.S. books arrive within a few days.
Harvard Book Store
1256 Massachusetts Ave.
(617) 661-1515
E-mail: hbs-info@harvard.com

Seminary Co-Op Bookstore
1-800-777-1456
Fax: 773-752-8597
books@semcoop.com
The nation's largest selection of university press and scholarly titles in print
We ship books anywhere
Ask for The Front Table, our free catalog of new & noteworthy titles
We are located in Chicago near the University of Chicago's main campus. With over

100,000 titles in the humanities and social sciences, we feature the best selection of new academic books in the country. Mail, phone, fax, and e-mail orders are welcome, and our experienced staff is happy to answer questions.

"A room without books is like a body without a soul." -- Cicero
Wordsworth.com
The Body & Soul of Bookselling
Real Books
Real Bookstore
Real Service
WordsWorth Books
30 Brattle St., Cambridge, MA
(800) 899-2202 * fax (617) 354-4674

Cornell Campus Store Book Department
We carry 50,000 titles and can special order any book in print in the U.S. Specialties include scholarly & technical titles, books by Cornell faculty authors, and books of local interest. We ship books to any destination. Contact us for prices.
Cornell University
15 Central Avenue
Ithaca, NY 14853
Ph: (607) 255-4111
Fax: (607) 255-0188
csbooks@cornell.edu